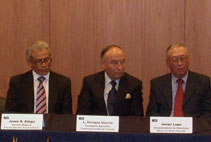 Donations for environmental, microfinance and competitiveness training projects
(La Paz, August 22, 2008).- CAF President & CEO Enrique García signed non-reimbursable cooperation agreements in favor of projects related to environmental conservation with civic awareness; development of sustainable markets for micro-, small- and medium-sized enterprises; leadership for competitiveness; and strengthening of communal banks in rural areas.
The first donation will be used by Friends of the Noel Kempff Natural History Museum Foundation and the Bolivian Society of Environmental Law to execute the project Generation of Citizenship with Awareness and Public Environmental Responsibility in southeast Bolivia. The objective is to contribute to the sustainable development of El Pantanal through implementation of an education and training program in environmental management for school teachers in Puerto Suárez and Puerto Guijarro municipalities. The project aims to create environmental responsibility and train leaders who, together with specialized organizations, contribute to mobilizing and internalizing the value of collective participation in environmental management and evaluation of natural resources.
To contribute to developing a sustainable domestic market for Bolivian micro and small enterprises, funds were approved for the Reverse Fair Foundation to organize the III Reverse Business Fair in which the exhibitors are large companies which need goods and services. The CAF cooperation funds will help generate opportunities for small businesses to offer and place their products on the domestic market more effectively, creating long-term relations between suppliers and buyers, and forming productive chains between large and small companies.
The Leaders for Competitiveness program to be implemented by the Bolivian Leadership for Competitiveness Foundation (FUNBOLIDER) will receive funds to develop the skills and knowledge of 40 entrepreneurial leaders whose application will have a positive impact on micro-, small- and medium-sized enterprises in Bolivia. The aim is also to raise productivity rates in the country by creating a culture of productive work.
Lastly, a cooperation agreement was signed to stimulate strategic planning and update function and process manuals for the Bolivian Foundation for Women's Development (FUNBODEM), which will serve as guide for decision-making and facilitate growth and strengthening of the Foundation whose work is to offer financial services and sources of financing to Bolivian women from low-income sectors for their betterment and to improve the economies of their families.