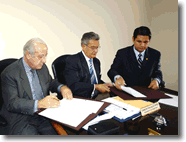 In Ecuador - Cooperation agreement to improve securities market signed with Central Bank
(Quito, August 7, 2008).- The general manager of the Central Bank of Ecuador (BCE), Robert Andrade, and CAF representative in Ecuador, Luis Paláu-Rivas, signed a non-reimbursable technical cooperation agreement for the design of a new institutional framework for the Ecuadorian capital market.
The action will improve the functional and institutional conditions of the Ecuadorian securities market, its judicial framework, market regulation and supervision, with a view to bringing the conduct of market agents into line with the objectives of national economic growth.
The specific objectives of the project include obtaining a diagnosis of the current situation and future potential of the securities market; strengthening the institutional framework of regulation and supervision of the securities market; defining the changes in the legal framework of the Securities Market Law, and building consensus among government authorities, control agencies, and participants in the capital market on the changes and innovations needed in the institutional conditions of the market given its importance for the economic development of Ecuador.