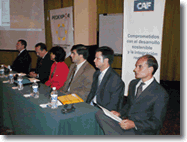 Logistics and Transport Seminar organized jointly with FEDEXPOR
August 06, 2008
With CAF support, the Technologies Applied to Logistics and Transport Management international seminar was held in the city of Quito
(Quito, August 6, 2008).- The Andean Development Corporation and the Ecuadorian Exporters Federation (FEDEXPOR) organized the Technologies Applied to Logistics and Transport Management International Seminar with the objective of examining world trends and practical improvements in the application of technology to management of logistics operations.
A logistics development strategy has to include lines of action geared to internationalization processes tending to local and sectoral development based on improving competitiveness aimed at attracting investments, opening access to markets and improving export competitiveness.
The participants – mainly personnel from ministries, air and port authorities, transport companies, cargo agencies – evaluated the benefits of the use of new technologies adapted to their business based on the latest information, application of successful cases and guided by excellent international speakers.
During the seminar, participants from the private and public sectors agreed on a single purpose which was to improve the country's competitiveness through a policy of appropriate consensus-based logistics development.
The seminar is part of the project "Strengthening the Logistics Cluster to increase the Competitiveness of Ecuadorian Exporters" which Fedexpor is organizing with CAF support through the Competitiveness Support Program (PAC).