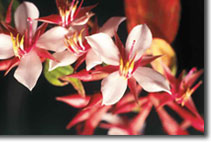 New subportal for conservation of biodiversity and ecosystems
August 21, 2008
The new version of the BioCAF subportal will keep the public informed about initiatives in its shareholder countries in favor of biodiversity.
BioCAF is supporting important efforts aimed at conservation of ecosystems, biodiversity and genetic resources in its shareholder countries, as well as activities and initiatives that foster sustainable exploitation of this potential.
(Caracas, August 21, 2008).- As part of the efforts to guarantee responsible environmental and social management in the region, while promoting solutions for environmental protection, the Andean Development Corporation has today published on the internet a new version of its by BioCAF subportal, which can be accessed directly through www.caf.com/biocaf or through the environment subportal in www.caf.com.
The objective is to make available to the public information on the initiatives that CAF is supporting through its Biodiversity Program (BioCAF), which promote biodiversity conservation, development of sustainable markets for biodiversity and genetic resources through biotrade and biotechnology, and lastly environmental services. The latter relate mainly to scenic beauty, protection of biodiversity and soils, capture and retention of water in ecosystems, and regulation of natural cycles of gases.
These initiatives recognize how the set of natural resources represent a potential advantage for the countries of the region, and reaffirm the Corporation's commitment, through BioCAF, to conservation and sustainable use of the region's ecosystems.
From today, visitors to the BioCAF site can find out more about the Program, its areas of action, the projects being executed and the public/private bodies which directly or indirectly support these initiatives in Latin America.