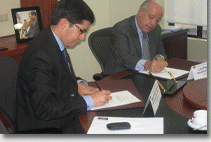 Support for institutional strengthening of State Bank of Ecuador
August 21, 2008
CAF and BEDE sign a technical cooperation agreement to strengthen the effectiveness of institution's public investments through up-to-date technical information and instruments.
(Quito, August 21, 2008).- CAF representative in Ecuador Luis Paláu-Rivas and general manager of Banco del Estado (BEDE), Diego Aulestia, signed a non-reimbursable technical cooperation agreement for the bank's institutional strengthening. The objective is to develop and update methodologies, knowledge and technology aimed at making the institution's management more responsive and efficient.
BEDE does not currently have the up-to-date technical and financial information on municipal public services needed to optimize its actions with local governments. BEDE grants loans for investments based on the best utilization of the scarce resources available in relation to the enormous need for public works, which requires precise identification, prioritization and optimization of potential projects.
The operation covers modernization of two important systems which are sources of internal and external information: The Municipal Information System (SIM) which provides financial-technical and administrative information on municipal services; and updating the Shadow Price Ratio (SPR) which facilitates the economic evaluation of the projects.
With the start of the program, SIM will provide information on municipal public services: potable water, sewerage, solid waste, roads, land terminals, and others. The SPR variables will be updated to transform the market prices of the main inputs used in execution of projects. Execution time for the project is 12 months.
This operation is part of the Environmental Sanitation for Community Development Program (PROMADEC) financed with a US$200 million CAF loan whose objective is to improve the quality of life and health conditions of the poorest and most neglected marginal rural and urban population of Ecuador.