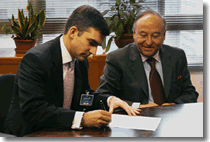 US$600 million for Eletrobrás
August 12, 2008
CAF grants A/B loan to Eletrobrás to support the electric power sector in one of its 17 shareholder countries
(Caracas, August 12, 2008).- In a solemn ceremony in Rio de Janeiro, Enrique García, CAF president & CEO, and José Antônio Muniz Lopes, president & CEO of Eletrobrás, announced the signing of an A/B loan agreement for US$600 million to finance part of the investment plan of Centrais Eletricas Brasileiras S.A. (Eletrobrás), strategic company for the Brazilian power sector. It is the largest transaction approved by the Corporation through this type of financing.
The CAF president said that "with this operation the Corporation is supporting the Brazilian power sector which the government has declared strategic. The objective of the Eletrobrás investment plans is to increase generating, transmission and distribution installed capacity to meet growing demand in Brazil. García said he was satisfied with the A/B operation, in conjunction with a large number of syndicated banks headed by a financial institution as prestigious as Citi. This operation follows around US$1 billion in loans approved by CAF for Eletrobrás in recent years."
Marcelo Marangon, managing director of Banca Corporativa y Financiamiento Corporativo de Citi Brasil, said "this is the largest closed A/B loan on the Brazilian market this year, and the largest A/B loan that CAF has made on the Brazilian market. Citi is proud to have served Eletrobrás – with the collaboration of BNP Paribas and Soc Gen as placement agents - as co-structuring agent with CAF of this innovative transaction, which represents the Eletrobrás's return to the syndicated loan market after three years."
The Eletrobrás CEO thanked CAF for its constant support and its contribution to the government's efforts in favor of the Brazilian power sector as part of its integrated strategy. In the framework of the recently approved new reforms which allow the internationalization of Eletrobrás, they expect to continue relying on the Corporation's support in the future, he added.
The loan is structured with a CAF contribution of US$150 million for the A tranche. The US$450 million of the B tranche will be financed by syndicate of 11 banks led by CAF and Citi.
A/B loans are a cofinancing mechanism developed by multilateral organizations to finance development projects with other international financial institutions. The benefits of this type of operation include the catalytic effect in favor of the region when CAF offers the possibility of raising third party funds at very competitive rates; the possibility of raising all the finance for the project in a single loan, which reduces fixed costs and simplifies negotiations; establishment or deepening of business relations with first line international banks; the flexibility and versatility which characterize CAF.
About Eletrobrás
Eletrobrás has been a client of CAF since 1997, when it received its first direct loan for US$55 million to finance the Venezuela-Brazil energy integration project. Later two additional A/B loans were granted for US$150 million and US$100 million. It is a mixed open-capital company with shares traded on the Sao Paulo (Bovespa) and Madrid stock exchanges, and level 1 ADRs (American Depositary Receipts) traded on the secondary market. As of December 2007, the Brazilian federal government held 53.99% of common stock and 46.38% of total shares.
Currently, the Eletrobrás group is the main supplier of electric power in Brazil and source of finance for the electricity sector.
Citi is one of the leading companies in global financial services with about 200 million customer accounts doing business in over 100 countries, offering a wide range of financial products and services to consumers, companies, governments and institutions including banking and consumer credit, corporate banking and investment banking, insurance, securities trading and asset management. Some of its most important brands are: Citibank, Citifinancial, Primerica, Smith Barney, Banamex and Nikko. For more information consult www.citigroup.com.