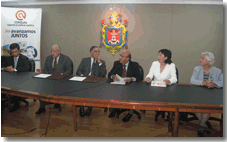 CAF and Quito Municipality join forces to improve the competitiveness of software services
September 15, 2008
With the support of CAF, Quito Municipality seeks to improve competitiveness of software services business sector through the Municipality's Economic Development Agency (CONQUITO).
(Quito, September 15, 2008). A non-reimbursable technical cooperation agreement was signed in favor of the municipality to
promote
the
export
of the
software services of technology-based
companies in the
Quito – Pichincha
region, in the presence of the Mayor of Quito, General (Retired) Paco Moncayo, the director of CONQUITO, Natacha Reyes, the Metropolitan District's development secretary, Washington Herrera, and the director of CAF in Ecuador, Luis Paláu – Rivas.
It is hoped that, by reaching agreements with companies of developed countries operating in the international technology market, specifically with Spain, implementation of the project for improving competitiveness will result in progress in business development that will permit the modernization of the region's productive apparatus and increase the sector's productivity and competitiveness.
At the moment, Ecuador is developing successful products in the field of E-learning, multimedia communications and strategic Internet-based strategies. The country's main offer in software focuses on developments for the financial sector and natural language software (in-bond assembly industry, their applications, technical assistance, and maintenance). The project falls with the activities of the Competitiveness Support Program (PAC) that CAF is carrying out in member countries and that aims to increase the productivity of the country's productive sectors.