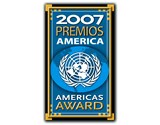 The Americas Awards for Excellence in Public Service 2008 announced
The Americas Awards for Excellence in Public Service 2008 are an initiative for providing an incentive for government officials and recognition of their achievements in meeting the eight Millennium Development Goals established by the United Nations. This is an initiative of the Executive Secretariat for Integral Development (SEDI) of the Organization for American States (OAS) and the International Local Authorities Training Center (CIFAL Atlanta) of the United Nations Institute for Training and Research (UNTAR) in collaboration with Corporación Andina de Fomento (CAF) and the Veolia Corporation.
The Jury Committee, made up of representatives of the participant organizations, evaluated more than 140 nominations received from 17 countries on the continent and has selected the eight winners. The Jury Committee analyzed the nominations on the basis of criteria of performance and impact, sustainability of the programs, innovation, maintenance, ethical standards, and establishment of public-private alliances. Using the points system, each jury member evaluated impact indicators that showed concrete progress towards achieving the Millennium Development Goals.
The list of winners will be posted on the CIFAL, SEDI and CAF web pages on Friday, October 19. The award ceremony will be held at a gala dinner on September 29 in Atlanta, Georgia. During the dinner a special prize will also be awarded in recognition of the professional work of the government officials who have been chosen.
Based on the eight areas of action of the MDGs, the winners of the Americas Awards for Excellence in Public Service 2008 are the following:
Award to leadership in environmental sustainability
Thomas Bates Mayor, Berkeley, United States www.ci.berkeley.ca.us
Mayor Bates' administration has been characterized/marked by implementing actions geared to protect the environment and reduce gas emissions generated by the city. It also provides incentives for citizens and companies who are developing and making use of alternative energies. The community in general has taken an active role and has taken over/adopted Berkeley's Climate Plan.
Award for leadership in reducing poverty
Fernando Espinoza Mayor, La Matanza Municipality, Argentina www.lamatanza.gov.ar
Mayor Espinoza's administration has implemented successful social inclusion and poverty reduction policies and strategies. With the purpose of spurring/stimulating/boosting the private sector in the municipality, productive micro enterprises/undertakings, work cooperatives for unemployed workers, and they have supported the recovery and support of companies. They have also offered job training and support in looking for jobs. Programs have been implemented for providing specific incomes for the destitute and specific food programs for the destitute and senior citizens.
Award for leadership in public health: Reduction of child mortality
David Estwick Minister of Health, Barbados www.health.gov.bb
The Ministry of Health of Barbados has implemented aggressive health policies to reduce child mortality and reduce the incidence of transmittable diseases. The ministry has undertaken various vaccination campaigns, has created a number of mobile health units that take health care to schools and vulnerable communities.
Award to leadership in education
Celso Jaque Governor, Mendoza Province, Argentina www.mendoza.gov.ar
Governor Celso Jaque has implemented of educational reinsertion for youngsters between the ages of 14 and 18 who neither study nor work. Through the program "Off the Street Corner into School" young people from marginal urban and rural sectors of Mendoza who were exclude from the educational system for one year or more have been provided with a subsidy so that they can rejoin the educational system. Besides this program coordinates/ties in with other productive and recreational activities for making use of free time.
Award to leadership on equality of the sexes
Miguel Lifschitz Mayor, Rosario Municipality, Argentina www.rosario.gov.ar
The Participative Budget is an administrative/management practice of Rosario Municipality that allows the community to decide on the use to which part of the municipal budget is put. Superintendent Lifschitz's administration has been characterized by the political will to encourage and strengthen both the presence and actions of women in the different stages of the process and the inclusion of their demands regarding sex. This initiative has permitted the implementation of projects with an equal opportunity focus in the municipality.
Award to leadership in economic development and job generation
Marío E. Salaverria Minister of Agriculture and Animal Husbandry, Republic of El Salvador www.mag.gob.sv
the ministry of Agriculture and Animal Husbandry has managed to promote an business approach to the productive sector of El Salvador's agricultural sector based on the introduction of strategic technological changes in production, processing, and marketing methods. The ministry has developed a Support Information System for the Agricultural Sector (SIASA), furthered phytozoosanitary/plant and animal health protection and food safety. Besides, it has done exceptional work in reconditioning/overhauling and rebuilding irrigation systems and in promoting crop diversification, as well as technological innovation.
Award to leadership in public health: Prevention and reduction of HIV
José Gomes Temporao Minister of Health, Brazil www.saude.gov.br
the Ministry of Health has implemented programs under which it currently provides anti-retroviral medicines to more than 200,000 patients who live with HIV. It has also started a process of registering medicines developed in Brazil so as to reduce dependence on purchasing medicines from abroad, reduce costs, and extend access to those medicines by patients.
CAF is a multilateral financial institution whose mission is to support the sustainable development of its shareholder countries and regional integration. It is made up of 17 countries of Latin America, the Caribbean, and Europe.
The United Nations Institute for Training and Research, UNITAR, was established in 1965 as an autonomous institution within the United Nations whose purpose is to improve the effectiveness of organization through training and research. Its head office is in Geneva, Switzerland, and it has offices throughout the world.
CIFAL Atlanta is non-profit organization created by UNITAR as a United Nations Training Center for Latin America. Its mission is to provide government authorities and civil society leaders with knowledge and best practices to achieve the Development Objectives of the Millennium. The CIFAL Centers Network has 12 offices around the world.
Links: www.caf.com www.cifalatlanta.org www.sedi.oas.org
For more information: CIFAL Altanta, Estrella Merlos Phone: 503-2236-1917 e-mail: emerlos@cifalatlanta.org