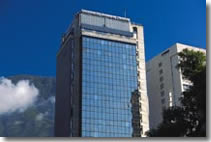 The firm PRODUCTORA wins International Competition
September 24, 2008
in collaboration with the firm Lucio Muniaín et al.
Forty-four proposals were received from 12 of the Corporation's shareholder countries.
(Caracas, September 24, 2008). CAF announced that the firm PRODUCTORA, in collaboration with Lucio Muniaín et al., both located in Mexico, was the winner of the International Architecture Competition for the New Headquarters of the Andean Development Corporation (CAF). The jury issued its verdict based on the fact that the proposal is outstanding for its simple, true synthesis of the criteria of sustainability, urban and environmental quality, architectural quality, and functional efficiency and for integrating public areas in favor of the community.
In the first stage of this competition, CAF invited architectural firms in the Corporation's 17 partner countries to present their credentials. Subsequently, 52 firms were short-listed and invited to compete. Finally, 44 architectural proposals were received from 12 of CAF's shareholder countries: Argentina, Brazil, Bolivia, Colombia, Chile, Ecuador, Mexico, Paraguay, Peru, Spain, Uruguay, and Venezuela.
The winning firm, PRODUCTORA, is an architects' office located in Mexico City, with architects of different nationalities: Abel Perles (Argentina), Carlos Bedoya (Mexico), Víctor Jaime (Mexico), and Wonne Ickx (1974, Belgium). Its proposal was drawn up in collaboration with Lucio Muniaín et al., of Mexico.
CAF president and CEO Enrique García will present the award at an event to be held in Caracas, Venezuela, on a date to be announced later. The winning proposal will be presented on that occasion along with the other proposals that classified or received an honorable mention.
The second placed was obtained by the firm Andrade Morettin Arquitectos Asociados Ltda. of Brazil and the third by the Spanish firm QVE-arquitectos. The firms that received an honorable mention were: Vigliecca & Asociados (Brazil), TEN Arquitectos (Mexico), Juan Gustavo Scheps Grandal & Gualano + Gualano (Uruguay), and Alessandro Famiglietti y Asociados (Venezuela).
About the jury Members of the international jury panel were: Miquel Adriá, a Spanish architect, director of the Master's Program at the Polytechnic University of Catalonia in Mexico and also of the journal Arquine; Beatriz Colomina, a Spanish architect, chair and director of the Ph.D. Program in Architecture at Princeton University, United States; Luis Fernández-Galiano, a Spanish architect, professor at the Higher Technical School of Architecture of Madrid (ETSAM); David Gouverneur, a Venezuelan architect, professor of the University of Pennsylvania, United States, and the Metropolitan University of Caracas, Venezuela; Carlos Jiménez, a Costa Rican architect, tenured professor at Rice University in Houston, United States; José Rosas Vera, a Chilean architect, dean of the Faculty of Architecture of the Pontifical Catholic University of Chile; Omar Seijas, a Venezuelan architect and vice-president of Venezuela's Architects Association; and Luis Enrique Berrizbeitia, CAF's vice-president and deputy CEO.