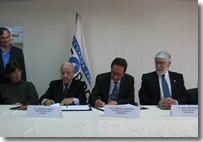 Agreement with ECOFAS for transformation of the Ecuadorian flower growing sector
October 31, 2008
A technical cooperation agreement was signed with ECOFAS to strengthen organic cultivation in the flower growing sector.
(Quito, October 31, 2008).- The Andean Development Corporation and the Ecuadorian Organic Flower Growers Association (ECOFAS), group associated with Expoflores - Ecuadorian Association of Flower Producers and Exporters - signed a non-reimbursable technical cooperation agreement to strengthen the flower growing sector in Ecuador through production, management and marketing of organic flowers. The initiative is also supported by the Export and Investment Promotion Corporation (CORPEI).
The world trend toward consumption of organic products has been growing in recent years. Consumers are now more selective about the origin of products and want them to be environmentally friendly, which means less preservatives, chemical pesticides, fertilizers, among others. The initiative will help the country to initiate a strong process of productive transformation in the flower growing sector, moving from traditional methods to an environmentally sustainable organic production process.
CAF director in Ecuador Luis Paláu-Rivas referred to the importance of supporting this project for developing a supply of flowers with value added, and creating an organic production model which is economically, socially and environmentally sustainable over time. It also reflects the interest of producers in achieving good environmental management for their companies and workers, he added.
The president of Expoflores, architect Gonzalo Luzuriaga, emphasized the associative undertakings of his group and their clear benefit for productivity, the environment and the communities neighboring the flower growing farms.
The productive transformation of the flower growing sector in Pichincha, Cotopaxi and Azuay provinces associates 25 flower growing companies representing over 700 hectares of production of traditional flowers which export about 90% of their production.
The project comes under the Competitiveness Support Program (PAC) which the Corporation executes as part of its strategy to strengthen the competitiveness of the productive sectors of the region.