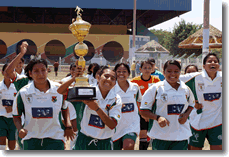 Bolivian women's football makes history thanks to CAF
October 28, 2008
Girls from Tahuichi Academy win their first international title
The initiative is part of the Social Responsibility and Community Development activities promoted by CAF
(La Paz, October 28, 2008).- The Tahuichi Academy girl's football team won their first international title after beating the other teams in the "First Friendship Without Borders Cup." The event was organized by the prefecture of Mato Grosso Do Sul state in Brazil where the two-day tournament ended on October 27.
The over 3,000 boys, girls and teenagers who participated in the competition included 19 girls who had benefited from the "SOCIAL ACTION FOR FOOTBALL" project which CAF has supported for over five years - in alliance with Tahuichi Academy - as part of its Social Responsibility and Community Development activities.
The good technical level of some of the girls who participated was enough for businessmen who support women's clubs to fix their attention on Bolivian female footballers and open a demanding market for them in Brazil.
CAF External Relations head Ana Mercedes Botero said: "In 2003 CAF and Tahuichi, in line with our cross-cutting actions of Social Responsibility in the area of gender equality in the region, began a project to expand opportunities for young women through sport. Which is why we are witnessing today's triumph. Sport is an effective tool of empowerment and citizen culture."
CAF support for this initiative is part of the Corporation's Sports Training Program whose objective is to strengthen the integrated training of children and young people from low income backgrounds by promoting sports activities.