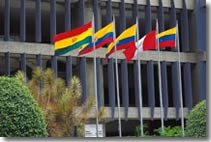 Help for Cofide to implement recommendations of Basle II and obtain international risk rating
October 28, 2008
With the technical cooperation offered by the multilateral, the institution will be able to achieve high international standards and practices.
(Lima, October 28, 2008).- The Andean Development Corporation approved a technical cooperation grant in favor of Corporación Financiera de Desarrollo (Cofide) to help with preparation of a "Master plan for implementation of recommendations of the Basle II Capital Accord and preparation of the institution to obtain an international risk rating."
The technical cooperation agreement - which grants non-reimbursable funds - was signed by CAF director in Peru Eleonora Silva Pardo, and Cofide Presidente Luis Rebolledo Soberón.
Silva Pardo said that implementation of the Basle II recommendations would enable Cofide to achieve the highest international standards and practices. "This will give it an important competitive advantage and enhance its credit image in the market, directly leading to the lowering of its cost of funds and international diversification of its sources of financing," she said.
For his part, Rebolledo Soberón said approval of this project by CAF in favor of Cofide was of vital importance for strengthening the institution.
According to local requirements, Cofide has to adapt to the recommendations and standards stipulated in the Basle II Capital Accord, for which a Master Plan is a priority requirement for establishing the actions, procedures and controls necessary for its implementation.
The second component of this operation consists of supporting Cofide in its preparations for obtaining an international risk rating with a view to making issues on international capital markets, which will diversify and lower the cost of its sources of funds – especially since Peru has recently obtained investment grade as a country.
The principal role of Cofide, the Peruvian State Development Bank, is to raise funds from multilateral organizations, international banks and the capital market which are then lent through the national financial system.