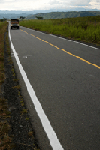 Optimization of investments in infrastructure and telecommunication projects
October 20, 2008
Experts from various countries of the region and representatives of the Colombian public and private sectors met in Bogota to analyze opportunities for the two sectors to work together.
(Bogota, October 20, 2008).- To open a space for dialogue on generation of joint work between the infrastructure and telecommunications sectors to contribute to the economic and social development of Colombia, the Andean Development Corporation and the Ministry of Communications will hold next October 24 from 8 am to 12 noon the Forum on Innovation in Infrastructure: Highways with Fiber.
During the event, which will take place during the Colombia Global Fair to be held in Corferias, representatives of the country's public and private entities will analyze the successful experiences of Spain, Chile and Peru, and explore opportunities for improving joint planning between the infrastructure and communications sectors in Colombia.
The "highways with fiber" concept relates to the possibility that Colombia's main highways incorporate optical fiber installations and offer universal access to communities. This is possible when road infrastructure investments are coordinated with communications investments, minimizing delivery times, avoiding inconvenience to users and optimizing resources.
The forum will have the participation of CAF director in Colombia Freddy Rojas; Daniel Enrique Medina, vice minister of Communications; Alvaro José Soto, director of INCO; Juan Martín Caicedo, president of the Colombian Chamber of Infrastructure; and Francisco Wulff, director of sectoral analysis and programming of the CAF Vice Presidency of Infrastructure.
With this space, CAF aims to contribute to generating new ways of designing public policies, as well as integrating efforts, institutions and beneficiaries, by developing innovative initiatives that strengthen infrastructure development plans in the region.