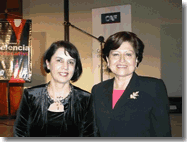 Support for First National Educational Excellence Competition
October 22, 2008
With CAF support, the first National Educational Excellence Competition took place, organized by the Foundation for Integration and Development in Latin America (FIDAL)
130 entries were received. The best projects in education were awarded scholarships and traineeships
(Quito, October 22, 2008).- On October 22 the prizes of the First National Educational Excellence Competition, organized by FIDAL, were awarded in a special ceremony. The objective is to recognize teachers who contribute, with their ideas and projects, to improving the quality of education in the country and contributing to the growth of future generations.
FIDAL received over 130 entries from teachers from 19 provinces in Ecuador. The aim of the competition is to become a space for promoting the good ideas of Ecuadorian teachers and strengthening educational research in the pre-school, primary and secondary schools of the country.
The objective of the competition is to value the daily effort of teachers who work from their classrooms with innovative and effective ideas to improve the quality of education in the country. The categories covered were: innovative/technology projects; research on educational issues; actions in favor of community organization; actions in favor pluralism, diversity and inclusion; educational and environmental proposals; educational models and currents; publications and curricular design.
The authors of the winning works received scholarships and traineeships in Ecuador and abroad.