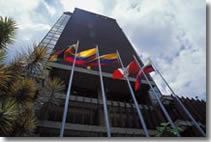 US$75 million agreement for Brazilian municipal infrastructure signed
October 20, 2008
CAF and the Manaus prefecture signed a loan agreement for the Urban and Environmental Infrastructure Program of the Brazilian municipality.
Improving the quality of life of the population and regional development are some of the objectives of the operation.
(Caracas, October 20, 2008).- The director of the Andean Development Corporation in Brazil, Moira Paz Estenssoro, and Manaus prefect, Serafim Correa, signed a loan agreement for US$75 million, which will partially finance the Urban and Environmental Infrastructure Program of Manaus Municipality. The loan guarantee by the Republic of Brazil was signed by Paulo Magaldi Netto, procurator of the Finance Ministry.
Moira Paz said that "the loan is part of the strategic objective of working directly with the municipal governments of intermediate and smaller Brazilian cities to support their plans for development and improvement of urban infrastructure, with favorable impact on the quality of life of the population." She added that this operation projects would finance projects which "will improve the quality of life of over 1.6 million inhabitants of this booming city, optimizing the road and drainage infrastructure, as well as generating employment and benefits, by creating conditions for the entry of companies into a new industrial district."
The cost of the program totals US$150 million, of which the CAF loan is equivalent to 50%, leaving the remaining 50% to be financed by the municipality. The loan is integrated by road, industrial development, drainage and environmental compensation components.
Execution of the program will increase competitiveness; stimulate agricultural production; strengthen agricultural, agroindustrial and commercial development by improving the transport network and logistics; increase tourism; remove the main points of congestion in the municipal road systems; improve travel by inhabitants, and promote job creation.