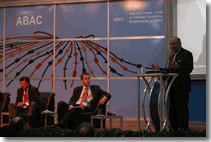 800 SMEs from the Asia-Pacific region meet at II SME Summit
November 16, 2008
CAF, Comex Peru and IPE have organized the event as part of the APEC Forum to analyze measures to help SMEs respond to globalization and the financial crisis.
CAF President Enrique García to speak on "Opportunities and challenges of financing SMEs"
Jack Ma, president of the Alibaba Group, will speak on Technology as integration tool in global markets.
(Lima, November 16, 2008).- About 800 small and medium-sized enterprises (SMEs) from the Asia-Pacific region have confirmed their participation in the second SME Summit "
Opportunities and challenges for SMEs
," to be held this Monday November 17 in the Real Felipe Convention Center, organized as part of the Asia-Pacific Economic Cooperation Forum (APEC) by the Andean Development Corporation, Comex Peru, and the Peruvian Economic Institute (IPE).
APEC Business Consultative Council President Juan Francisco Raffo and Peruvian Production Minister Elena Conterno will open the event, during which measures will be discussed to help SMEs respond to globalization and the international financial crisis.
"Technology as integration tool in global markets" is the presentation to be given by Ali Baba Group President Jack Ma who, despite his humble origins, has become the father of internet in China and one of the most celebrated people in world e-commerce. He is considered the Bill Gates of the Orient.
The presentation will be based on his personal testament. In 1999 Jack Ma founded B2B Alibaba, an e-commerce company with a capital of US$60,000 and 40 employees. Later, Yahoo!, looking for stability in the enormous Chinese market, merged with Alibaba which provided the needed critical mass and contributed the management for Yahoo to set up in that country. For its part, Alibaba found in Yahoo the financial and technological partner it needed to develop new markets.
Yahoo-Ali Baba currently has 15 million registered members, 120 million SME users in 200 countries. The Chinese market has one million users and is growing exponentially. There are an estimated 25 million SMEs of which only 600,000 have online presence. Jack Ma's proposal is to give industrial, craft and service SMEs the opportunity to do business with companies around the world, eliminating all types of intermediation, creating value and minimizing prices in favor of producers.
Financing challenges
The second presentation of this important forum is "Opportunities and challenges of financing the SMEs" to be given by CAF President Enrique García, who will explain that it is important to strengthen SMEs at this time because this is the sector which has the greatest difficulty in obtaining finance.
CAF plays an important role in meeting financial needs when conditions become difficult at regional and world level. In a situation like the present one, the Corporation steps in to help countries overcome their problems.
Other participants in the event will be Diógenes Alva, president of the Gamarra Business Coordinator; Cheng Hui Marc, general manager of ADEO Service China Buying Office; Frank Liu, president of Intco Internacional Holdings Co.Ltd; and Wilber Aragonez, general manager of Silicon Technology SAC. Other invitees are Patricio Reyes, deputy manager of Financial Intermediation of CORFO Chile; Remigio Alvarez, director of International Business of BANCOMEXT; and Eric Peterson, CEO of AUREOS. The event will be closed by Peruvian President Alan García.