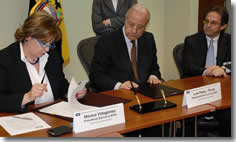 Agreement signed with BVQ to modernize capital market and create academic corporate governance network
November 12, 2008
The funds will contribute to deepening and modernizing the capital market in Ecuador.
(Quito, November 12, 2008).- The Andean Development Corporation approved an important non-reimbursable technical cooperation agreement in favor of the Quito Stock Exchange (BVQ) to support the "Project to Modernize the Stock Market and Create the Academic Corporate Governance Unit."
The objective of the project is to deepen and modernize the capital market in Ecuador by implementing mechanisms to prevent and control asset laundering; improve and modernize the self-regulation mechanism; develop stock exchange mechanisms to open access to financing for SMEs; increase participation of pension funds in the capital market; provide training programs and certification of security operators, as well as improve and complement mechanisms for promoting a stock-exchange culture.
In August this year, CAF also signed a technical cooperation agreement with the Central Bank of Ecuador to design a new institutional framework for the securities market, which is adapted to Ecuadorian conditions and prospects for growth.
The technical cooperation operation will set up an Academic Network Coordination Unit, focused on the dissemination and research into Good Corporate Governance, with the main universities of Ecuador at undergraduate and graduate levels. This initiative will improve the training and competitiveness of professionals at technical and executive level, by teaching the Principles of Corporate Governance for implementation by officials in public policies and in regulation and control mechanisms. The project will also benefit academic institutions by expanding the area of their knowledge and enriching their work of dissemination and research, along with the business organizations which will receive these processes.
The project will be executed by the Quito Stock Exchange (BVQ), a non-profit civil corporation, authorized and controlled by the Superintendency of Companies, which offers stockbrokers the services and mechanisms required for securities trading. The BVQ currently has 28 member firms.
This project is in line with one of CAF's objectives as a development bank which is to promote the competitiveness and deepening of the capital market in the countries of the region, in order to achieve greater efficiency in the use of its financial resources.