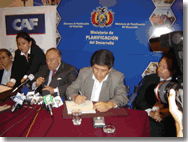 Agreement to promote sustainable development and tourism in southeast Bolivia
November 21, 2008
The Corporation will back an environmental conservation project with non-reimbursable funds
(La Paz, November 21, 2008).- CAF President & CEO Enrique García and Bolivian Development Planning Minister Carlos Villegas today signed a non-reimbursable cooperation agreement for execution of the project
Strengthening the Socio-Environmental Management of Protected Areas in Southeast Bolivia
.
The project will strengthen the social and environmental management of Pantanal Otuquis National Park through strategic land planning and stimulus for tourism activity in the area. Execution of the project will benefit the entire country since in the future the area will be one of the most economically active regions in Bolivia and the continent.
Southeast Bolivia is a strategic region because of El Mutún (the second largest iron ore deposit in South America) and because it includes Bolivia's only access to the Atlantic. In this context, it is essential for Pantanal de Otuquis and its area of influence to have land planning instruments which regulate regional development and alternative measures linked to conservation, García said.
The project includes preparation of a management plan based on a shared vision with the social actors, combined with strengthening local capacities, the CAF chief added.
The agreement was concluded following the efforts begun last June 6 by the Vice Ministry of Public Investment and External Financing (VIPFE) and responds to the policy of the CAF Biodiversity Program "BioCAF" of supporting shareholder countries in the areas of environmental development, conservation and sustainable productive use of natural resources, ecosystems and biodiversity.