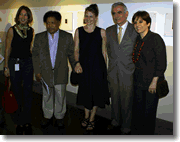 In honor of Alirio Palacios
November 28, 2008
CAF and TAGA present the XIII Luisa Palacios Graphic Miniatures Biennial.
With this show, the multilateral organization continues its work of disseminating the creative activities of Latin American peoples.
(Caracas, November 28, 2008).- Alirio Palacios - painter, sculptor, graphic artist in essence - is being honored by the
XIII Luisa Palacios Graphic Miniatures Biennial
, organized by the Andean Development Corporation and the Associated Graphic Artists Workshop (TAGA). The exhibition will be open on November 27 in the CAF Gallery in Avenida Luis Roche de Altamira.
"CAF is pleased to exhibit in its spaces - Ana Mercedes Botero, head of the CAF External Relations Office, said - some hundred works from the region and Europe, and takes special pride in supporting this encounter of artists of different generations and origins, a tradition that appreciates excellence, stimulates research and develops creativity in the infinite possibilities of graphic art in a particularly demanding and rigorous format."
The institution she represents "is honored to receive the Luisa Palacios Graphic Miniatures Biennial for the fourth time; on this occasion in homage to maestro Alirio Palacios, painter and engraver, founder member of TAGA and one of Venezuela's most outstanding contemporary plastic artists," the CAF official said
For TAGA, Teresa Casanova, president of the Board, said "TAGA is a reality which stays alive with the support of its artists and institutions like CAF, which through its traditional support has enhanced the nature of this Biennial with its vision and in its spaces. An action which demonstrates its wish to strengthen the spheres of creation."
The exhibition presents the most traditional engraving techniques in their different forms: xilography, line engraving, aquatint, etching, mezzotint, as well as the surface techniques: serigraphy, lithography and digital. The show receives from Venezuela and other countries the different possibilities each artist chooses to express his or her work.
With roots in the Orinoco Alirio Palacios, Venezuelan artist, born in Tucupita, Delta Amacuro state, on the banks of the Orinoco River, has traveled and worked in many parts of the world developing his creative project where drawing, paper and printing are combined in an exceptional art form. Each remote place with its particular culture and tradition filled him with the experience of life. He traveled through unknown landscapes and surprising rivers, but his roots have always been in his Orinoco river to which he has returned.
Alirio is recognized for his broad and deep research in the field of graphic art. He has used large formats in xilography, invented Concretography, and worked in all printing techniques.
In this homage, the artist shows that a miniature as work of art displays what is needed to show us a universe of views, as many as those contained in a large-size Concretography. Here is the artist and the magic of graphic art.