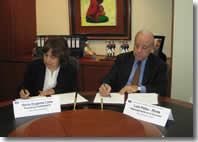 Innovative telemedicine system in Chimborazo and Cotopaxi provinces
November 18, 2008
With support from CAF, for the first time in Ecuador a Telemedicine project will be developed to benefit 15,000 indigenous women from the Randimpak project.
(Quito, November 18, 2008).- The Andean Development Corporation and the Andean Women and Family Foundation (FUNDAMYF) signed a non-reimbursable technical cooperation agreement to implement an innovative telemedicine system in Chimborazo and Cotopaxi provinces. The project will benefit 15,000 women belonging to the Randimpak project (Indigenous Women Building their Future) co-financed by CAF and begun in 2002. The women health promoters trained in that project will now become an important base for the telemedicine system.
Randimpak is one Ecuador's major projects because of its coverage, number of direct participants and the integrity of the actions planned. Its objective is to organize and train indigenous and campesino women with the aim of supporting communities in production, marketing, health and education, microenterprises and organic agriculture. As a result, the Randimpak women earn their own income and improve the conditions of life of their families.
The telemedicine system consists of using specialist doctors to train Randimpak women as health promoters in the use of information and communication technology (ICT) to make diagnoses, give treatment and control illnesses, in line with their eco-epidemiological situation.
The program is expected to incorporate modern medicine and adapt the services of the integrated telemedicine system while respecting indigenous customs and usage, reduce the number of transfers of patients to medical centers, train women health promoters in medical areas and in prevention guidance, give rural medical staff access to updating and distance education programs, among others. A promoter with the help of a general doctor, via tele-consultation (by telephone or internet), will be able to treat 15 to 20 patients a day in their locality without having to send them to a hospital.
This CAF social responsibility initiative is linked to other actions of the CAF Strengthen Local Opportunities Program and the Communication Technology Program, aiming for synergy in micro-interventions in the local area, and generation of basic capacities in disadvantaged communities in an effort to increase real opportunities for progress through use of technology.
The project will be developed jointly with TeleSalud de Venezuela, the School of Medicine of the Quito San Francisco University, and the Ecuadorian Telemedicine Association.