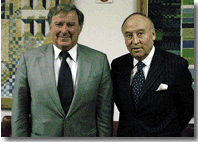 November 05, 2008
The Portuguese Secretary of State of Treasury and Finance and the CAF president signed a Memorandum of Understanding for entry of the country into the multinational financial organization
The signing deepens the links between Portugal and the Corporation's 17 shareholder countries.
(Special, November 5, 2008).- The Portuguese Secretary of State of Treasury and Finance, Carlos Costa, and CAF President & CEO Enrique García signed in Lisbon a Letter of Intent to speed up negotiations to achieve Portugal's entry as shareholder of the multilateral financial organization as soon as possible. The agreement is part of efforts to intensify relations between Europe and Latin America.
"This agreement – Costa explained – reinforces our intention to join an institution like CAF which leads sustainable development and integration in Latin America." The Portuguese official added that the strategic character of Latin America has increasing importance for the foreign policy and economic internationalization of the Republic of Portugal.
For his part, the CAF president said, "the signing is part of actions to deepen the Latin American character of CAF and expand its borders into Europe and Asia." In this case, "we are encouraged by the desire to develop and expand, for mutual benefit, existing relations in the economic, financial, trade and investment areas between Portugal and the member countries of the Corporation."
García added that, in the current global financial crisis, it was indispensable to reestablish conditions of confidence in order to begin to open normal financing channels and minimize risk aversion. "It is agreements like that signed today which are evidence of the anti-cyclical work that CAF does as a way of stimulating measures that help us mitigate the current situation and project the reforms needed to give Latin America more sustainable growth, particularly better quality, in the future."