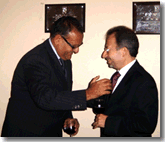 The Bolivian National Symphony Orchestra Foundation unveils plaque in recognition of CAF support
November 06, 2008
The public can now enjoy concerts in comfort, and winter which affected the orchestra's income will no longer be a problem.
(La Paz, November 6, 2008).- Thanks to a donation from the Andean Development Corporation, a heating system was installed in the Symphonic Center, home of the National Symphony Orchestra. The president of the Bolivian National Symphony Orchestra Foundation, Juan Ortega Landa, thanked the multilateral organization while unveiling a plaque of recognition for the multilateral organization.
This donation is not the first support from CAF: in 2004 the Corporation donated funds for installation of the stage lift as part of the Restoration and Adaptation of the National Symphonic Center project - mainly financed from international cooperation contributions.
"A year ago the Foundation presented its application for the heating installation and enjoying performances in a more agreeable temperature is now a reality," Ortega said. He explained that improving the infrastructure of the Symphonic Center is a project with various stages, which are slowly being completed with help from various international organizations, especially CAF.
Emilio Uquillas, CAF director in Bolivia, said that "in its role as development bank, the Corporation was privileged to contribute to this type of initiative because helping artistic activities benefits a fundamental aspect of human development, factor which has a direct effect on improving living conditions. With this contribution to the city of La Paz and to all lovers of art and music, CAF demonstrates its integrated approach to supporting member countries."
In recent years public attendance and the number of presentations of the National Symphonic Orchestra has notably increased, which is resulting in the financial stability needed to cover maintenance costs, as well as musicians' salaries. In the past, revenue was affected during the winter season when public attendance fell by 30%.
For this reason the priority was to install a heating system which is now working. This significant contribution is expected to increase attendance which will improve the contracting conditions of musicians, as well as guaranteeing funds for other administrative areas.