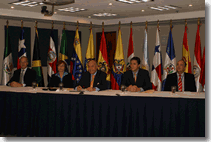 Agreement for integrated response to natural emergencies signed with Republic of Ecuador
December 05, 2008
The agreement offers contingent financing facility up to US$200 million.
The operation reflects CAF's constant support for Ecuador and its solidarity with the needs of Ecuadorians.
(Quito, December 05, 2008).- The Andean Development Corporation and the Republic of Ecuador, through the Ministry of Finance, signed a contingent financing agreement for natural disaster response, which grants Ecuador a financing facility for the equivalent of US$200 million, available in one or more disbursements to finance investment projects in case of natural disasters and emergencies.
The agreement was signed by Finance Minister Maria Elsa Viteri in Quito with CAF President & CEO Enrique García from Caracas.
García said the agreement was important for the Republic of Ecuador and referred to the excellent relations that the multilateral organization maintains with the Ecuadorian government. He confirmed CAF's commitment and interest in providing support when required by the country. He added that CAF will continue to concentrate its efforts on an agenda that contributes to the sustainable development of its partner countries.
This year CAF has approved loans in favor of Ecuador for around US$570 million to finance projects in the public and private sectors.
The funds from the agreement signed today will provide a primary response for victims of emergencies, execution of emergency works for provisional restitution of critical services, and the functions of supervision, inspection and management during the provisional restitution works.
Work is also progressing on new agreements with the National Financial Corporation and road projects.