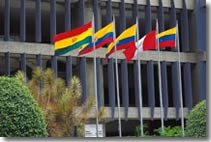 Agreements in favor of Latin American border areas
December 15, 2008
During the Mercosur Summit, CAF president signs agreements with FCCR and Codesur
The agreements are part of the CAF Border Development and Integration Support Program (PADIF).
(Special, December 15, 2008).- During the Mercosur Summit, which is taking place in Salvador de Bahía, Brazil, CAF President & CEO Enrique García signed a Memorandum of Understanding with the Brazilian national coordinator of the Mercosur Consultative Forum of Municipalities, Federated States, Provinces and Departments (FCCR), Alexandre Rocha Padilha; and a Protocol of Understanding and Cooperation with the president of the South Development and Integration Council (Codesur), André Puccinelli. Both agreements aim to support actions in the border areas of Latin America.
García said, "today's signings take place in the framework of the CAF Border Development and Integration Support Program (PADIF), which is an initiative designed by CAF to strengthen its mission and strategic presence in regional integration." "The Corporation is currently promoting over 12 bilateral and multilateral initiatives through this Program."
The actions to be executed will be financed from the funds of the CAF Border Cooperation and Integration Fund (COPIF). The objective is to support the timely identification, preparation and execution of high-impact projects which promote sustainable human development in border regions, and contribute to strengthening cooperation, dialogue, mutual confidence and border integration at bilateral and multilateral levels.
The Fund has an initial US$4 million contributed by CAF which will be gradually increased to US$25 million.
One of FCCR's priorities is to take actions to promote border integration in view of its impact on the work of subnational governments and the inhabitants of their areas. The Forum was created as a space for participation and cooperation by the subnational governments of Mercosur.
CODESUR, agency which coordinates the Working Group on Border Integration of the Brazilian Chapter of the FCCR, develops projects and programs with the objective of promoting viable regional development in the search for alternatives for addressing economic, social and regional imbalances. The agency has become a privileged forum for coordination and strengthening with respect to problems common to member states, especially those relative to the economic and social development, and integration of Mercosur.