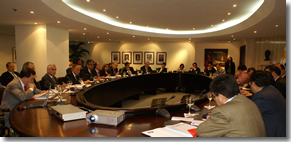 Approved US$210 million line of credit for National Bank of Panama
December 02, 2008
This new financing aims to strengthen Panamanian foreign trade
(Caracas, December 2, 2008).- To support the strengthening of Panamanian foreign trade, the Andean Development Corporation today approved US$210 million in favor of the National Bank of Panama (Banconal). This approval is part of the Corporation's action program to deal with the current international financial situation.
The occasion was appropriate for emphasizing the importance of active accompaniment by development organizations, such as CAF to its member countries, as part of the strategy of these countries in response to the world financial crisis. CAF Chief García said, "we believe this is an important opportunity for all organizations such as CAF, which are committed to development, to assume an important anti-cyclical role."
"The idea is to stimulate preemptive measures that help us get through the storm with the lowest social and economic costs for our population, and project the necessary reforms to give Latin America in the future a means of growth which is more sustainable and - above all - better quality, that is not only efficient from the economic point of view, but also creates productive employment, is inclusive, and respects cultural diversity and the environment," García said.
Banconal is the official financial institution of Panama, created in 1904, which acts as commercial, government and development bank. It is the third largest Panamanian bank. Its mission is to serve the financial needs of the State and obtain the financing needed to develop the national economy in the commercial, industrial, agricultural, livestock, fisheries, construction and personal consumption sectors. Banconal also performs the functions of treasury and tax agent of the Central Government, acting as intermediary for tax payments and collection. The bank controls and regulates the clearing house of the banking system and stocks, collects and distributes the US dollar notes, which function it has performed since 1979.