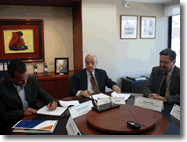 Environmental public policies in Ecuador promoted with FARO Group
December 10, 2008
The signing of a technical cooperation agreement will contribute to the strengthening and transparency of the country's environmental management.
(Quito, December 10, 2008).- With the presence of Luis Pálau-Rivas, CAF director in Ecuador, and Orazio Belletini, CEO of the FARO Group, a non-reimbursable technical cooperation agreement was signed as part of of the "Regreening public policies" initiative.
The project is a citizen initiative for formulation of environmental policies that promote the sustainable development of Ecuador, contributing to analysis of the current state of the country's environmental policies in support of the strengthening and transparency of Ecuador's environmental management in 2009.
Ecuador is one of the world's most biodiverse countries, so it is very important to set in motion a citizen discussion process on environmental policy and institutions.
The agreement signed will promote public debate on environmental policies in an effort to involve civil society in proposing and formulating new public policies in favor of the sustainable management of natural resources. The result will be the creation of an observatory of environmental public policies which will define a broad space for discussion and information on socio-environmental activities, projects and programs.
The project is linked to the CAF Environment Office and the CAF Environment Strategy, whose principles emphasize the importance of the participation and information of actors from the public and private sectors and civil society in order to deepen the commitment to proper management of natural resources by state bodies.
Faro Group is an independent public policy center which, through research and analysis, proposes, implements and monitors local and national public policies with the aim of creating a more efficient, equitable, inclusive and democratic State.