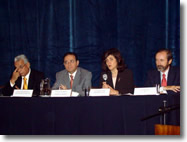 Guide for execution of road designs presented jointly with MTC
December 09, 2008
The document will be the basis for preparation of the final engineering studies required for road projects in Peru.
CAF chose Peru as the pilot country for initiating its adaptation to legal systems, languages and local culture.
(Lima, December 9, 2008).- The Andean Development Corporation and the Peruvian Ministry of Transport and Communications (MTC) today presented the "Guide for Execution of Road Designs" which will be the basis for preparation of the final engineering studies required for road projects.
The document was presented by CAF director in Peru Eleonora Silva Pardo; Vice Minister of Transport Carlos Puga; CAF adviser on transport issues Jorge Kogan; and Director General of Roads and Railways of the Ministry Walter Zecenarro.
Vice Minister Puga thanked the multilateral financial organization for its support in the preparation of this valuable document which – he said – would enrich and be extremely useful for the projects in his sector.
After recalling that the project began several months ago in the region, Eleonora Silva said that CAF, in coordination with the Ministry, selected Peru as the pilot country to initiate adaptation to the legal system, language and local culture.
"The objective of the Guide is to become a reference document for execution of engineering designs, and to contribute to minimizing, as far as possible, modifications during execution stage, particularly those related to project deficiencies," she said.
The document also conveniently defines the requirements and responsibilities of each party involved in the design of road works, and ensures that in the execution stage, basically by means of supervision, the designs are properly interpreted, understood, and free of deficiencies which require changes beyond those reasonable in a construction process, the CAF director said.
"After the roads come into service, they must function properly in line with the objectives that justified their construction during all their planned period of useful life. This aspect is fundamental for guaranteeing the economic and social return which the investment is intended to provide," the CAF official concluded.