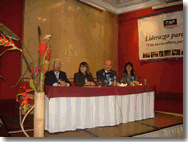 In Colombia, 900 new leaders committed to strengthening governance
December 05, 2008
In the presence of Bogota Mayor Samuel Moreno, CAF and ESAP ended the Transformer Leadership Program.
(Bogota, December 5, 2008).- About 900 citizens from 16 Colombian departments took part in the fourth graduation ceremony of the Transformer Leadership Colombia Program, which is promoted by the Andean Development Corporation and executed in alliance with the Higher School of Public Administration (ESAP).
The main objective of the program is to identify, select and train natural leaders, men and women, in vision of country and civic-democratic values, in an effort to lay the base for a new style of leadership, enriching their value systems and providing them with the tools they need to assume future leadership responsibilities ethically and with a deep civic and democratic sense, in line with the reality of their context.
In her remarks, Gloria Betancourt, coordinator of the CAF Governance Program, emphasized the immediate mobility of the participants in the Program, which leads to positive changes and results for the community.
Bogota Mayor Samuel Moreno said this type of program was fundamental for moving forward with citizen participation and decentralisation processes. Today more than ever the country needs new leadership which supports the work of government, he added.
Leadership for the Transformation is one of the lines of action which CAF promotes in the area of governance. Operating in five Andean countries, by 2008 the Program had trained 10,530 leaders from 1,287 municipalities.
Since 2004, CAF and ESAP have made a joint effort to develop this program which in its years of operation in Colombia has trained about 3,200 people from rural and urban sectors, representing organizations of young people, supervisors, teachers, indigenous peoples, and campesinos, among others.
The community, municipal and social leaders in this graduation are young people from 23 training centers located in the departments of Antioquia, Atlántico, Boyacá, Casanare, Cauca, Cesar, Cundinamarca, Guajira, Magdalena, Huila, Nariño, Santander, Norte de Santander, Tolima, Valle, and San Andrés Island.