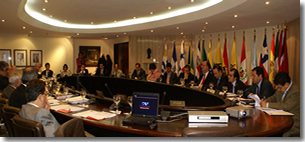 US$150 million for strengthening the Uruguayan electricity system
December 02, 2008
CAF approves loan for UTE to expand generating capacity in the country.
(Caracas, December 2, 2008). With the objective of increasing the availability of power from the Uruguayan electricity system, the Andean Development Corporation today approved US$150 million for the power utility Administración Nacional de Usinas y Transmisiones Eléctricas (UTE), guaranteed by the Republic of Uruguay, to partially finance execution of the
Program to Strengthen the National Electricity System
in the 2008-2011 period. The program will be executed by UTE.
CAF President & CEO Enrique García explained that, "the economic growth experienced by Uruguay has brought an increase in the demand for power and so the government of this country, partner of the Corporation, is executing through UTE the Program to Strengthen the National Electricity System, which will add reliability to the system and, in the medium and long term, reduce the average cost of power for users of the service."
"Investments to be financed by the CAF loan include installation, in the very short term, of additional power generating units, along with new high-voltage electricity transmission facilities, under the plan to interconnect with Brazil," García said. The total estimated cost of the program is US$621 million.
The loan operation is one of the two components covered by the CAF global financial support for the Program, which totals US$2 1 million. The other component is the US$50 million rotating line of credit, previously approved by CAF, also guaranteed by the Republic to finance UTE's short-term requirements during the planned investments stage between 2008 and 2011.
UTE is a Uruguayan public company which supplies power to the nation. Its activities cover all segments in the value chain: generation, transmission, distribution and marketing. It serves over 1.2 million customers with average power consumption per customer of approximately 5,353 kWh.