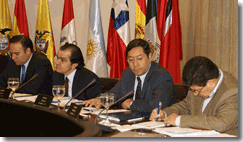 US$300 million for Bancoldex in Colombia
December 02, 2008
CAF approves loan for the Colombian Foreign Trade Bank to strengthen foreign trade and SMEs in the country.
Operations like these back Colombian government initiatives to deal with the international financial situation.
(Caracas, December 2, 2008).- The Andean Development Corporation today approved US$300 million for Banco de Comercio Exterior de Colombia S.A. (Bancoldex).
"This additional support for Bancoldex (in addition to the US$200 million line of credit in operation) backs Colombian government initiatives to deal with the international financial situation, with the aim of anticipating possible negative impacts on the domestic productive sector, particularly in the export SMEs, in an effort to maintain foreign trade flows, which will reinforce the position on national current account," CAF President García said.
The CAF chief emphasized the importance of active participation by development organizations, such as CAF, in the world financial crisis. "It is an opportunity for all the organizations committed to development to pursue an important anti-cyclical role."
Bancoldex acts as financial tool of the Colombian State with the objective of strengthening the Colombian productive sector and its participation in the international market. The bank has been positioned as the Colombian bank for development of business and foreign trade. The institution, which has been a CAF client for over 11 years, supports development of the country's exports and modernization of the SME sector.
The national government is the largest shareholder of the joint venture which began operations in 1992, and is linked to the Foreign Trade Ministry. The bank operates in Colombia as a rediscount bank, which offers financial products and services through commercial banks to companies that are part of the export chain of goods and services. Outside Colombia it provides, through previously qualified banks, finance for import of Colombian goods and services and operates as a financial instrument of the Colombian State to back the Strategic Export Plan.