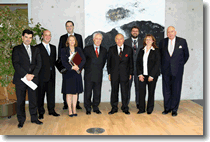 Agreement signed with European Investment Bank, EIB
January 13, 2009
On a visit to Luxembourg, the CAF president signed a Memorandum of Understanding to deepen links with this institution and Europe, in favor of Latin America.
(Special, January 13, 2009).- Enrique García, CAF president & CEO, and Carlos da Silva Costa, vice president of the European Investment Bank (EIB), signed a Memorandum of Understanding to create joint opportunities in support of economic, financial and trade development, with the aim of promoting European investments in CAF shareholder countries and exchanging information between the two institutions. The ceremony took place during a visit by García to Luxembourg.
With this signing, CAF and EIB confirm their decision to strengthen their strategic alliance by expanding areas of cooperation after beginning their business relationship with the signing of two agreements for 80 million euros destined to finance existing projects in the region which incorporate a European interest.
"This agreement – García said – reflects CAF's interest in developing strategic alliances which strengthen the capacities and opportunities of the two institutions in favor of the Corporation's 17 shareholder countries, at the same time as playing an important catalytic role by contributing, funds, products and experience from other regions, in this particular case from Europe."
The Corporation and EIB have joined forces in favor of Latin America on several occasions. Recently a US$2.3 billion loan agreement was signed to finance the Panama Canal Expansion Program; of this amount CAF contributed US$300 million and BEI US$500 million.
EIB was created by the Treaty of Rome in 1958 as the long-term lending institution of the European Union. Its main functions include granting finance to the public and private sectors for projects of European interest. The Bank has activities in the European Union (EU) and in 140 countries around the world with which the EU maintains cooperation agreements.