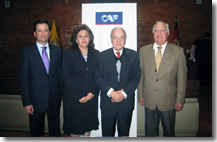 Good corporative governance practices promoted with Quito Municipality
January 13, 2009
Agreements were signed with three state companies to guarantee better use of their resources, contribute to greater transparency and mitigate problems of asymmetric information.
(Quito, January 13, 2008).- The companies Empresa Eléctrica Quito (EEQ), Empresa Metropolitana de Agua Potable y Alcantarillado de Quito (EMAAP-Q), and Empresa Metropolitana de Aseo de Quito (EMASEO) will be the first three in the Ecuadorian state sector to implement good corporate governance practices. The initiative is expected to serve as example and reference at national and regional level.
CAF director in Ecuador Luis Paláu-Rivas said that the multilateral organization was interested in "offering a series of tools to improve business practices and awaken interest in the creation of a real culture of efficiency, equity and transparency in management of state-owned companies."
Aware of the importance of increasing company competitiveness, CAF has become regional leader in this field, and has been promoting the adoption of good corporate governance practices in the business sector.
The project is part of the Program, which the Corporation executes with support from the Spanish Technical Cooperation Fund, to diagnose and implement better corporate governance practices in 10 representative state companies in Andean countries.