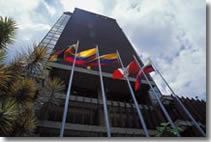 New bridges between Latin America and Spain
January 16, 2009
During his visit to the country the CAF president signed agreements with Madrid Polytechnic University and the Carolina Foundation.
(Special, January 16, 2009).- During his visit to Spain, CAF President & CEO Enrique García signed a framework cooperation agreement with the rector of Madrid Polytechnic University (UPM), Javier Uceda Antolín, and a memorandum of understanding with the director of the Carolina Foundation, Rosa Conde Gutiérrez del Álamo.
García said, "these agreements confirm CAF's interest in building new bridges for culture and cooperation at regional level, as well as contributing to integration and economic, social and cultural development."
During the ceremony, García underscored the strengthening of the Corporation's work of promotion in Spain and the rest of the European Union, "region with which we have increasingly close relations, enriching a common agenda of work."
García emphasized the common objectives of CAF and the two institutions. "The University - because of its essence, purpose and objectives - is called on to create channels of communication for the exchange of scientific and cultural knowledge. In turn, The Carolina Foundation was set up to promote cultural relations and educational and scientific cooperation between Spain and the rest of the world, especially the Ibero-American countries," he said.
The objective of the agreement with UPM is to maintain close cooperation on matters of common interest, such as development of teaching; promotion of educational activities; training functions; economic, social and cultural progress; regional integration; sustainable development and dissemination of information from research, among others.
The memorandum signed with the Carolina Foundation promotes close cooperation on matters of common interest, including execution of cooperation projects in specific areas of mutual interest in the CAF shareholder countries. The fields covered are teaching, culture, institutional strengthening, and community development.