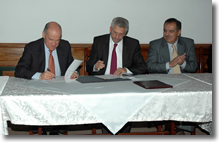 Support for Universidad of El Rosario analysis of competitiveness policies in Colombia
January 30, 2009
The educational institution will assess the three strategic areas of competitiveness in the country.
(Bogotá, January 30, 2009). The Andean Development Corporation and the University of El Rosario signed a technical cooperation agreement to develop the project "
Competitiveness and institutions in Colombia: Assessment and challenges in strategic areas
."
This initiative will identify the strengths and pending tasks of the institutional process implemented in Colombia as part of the National Competitiveness System with a view to its future development through a long-term state policy, in which national and regional institutions converge.
The project will identify institutional actions in three structural areas of competitiveness in Colombia: regulatory framework and competition policies; science, technology and innovation; and logistics and infrastructure. The project also includes a comparative exercise with other international experiences in Latin America and the world.
For many years, CAF has been supporting projects in Colombia related to productive transformation and development of the strategic plan in the area of productivity and competitiveness.