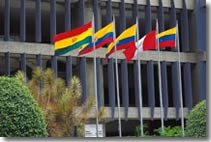 US$50 million loan approved for Bolivia for water, sanitation and drainage projects
January 20, 2009
The projects to be financed are Misicuni Multiple, replacement of water and sewerage networks in Cochabamba, construction of sewage treatment plants in El Alto, urban sanitation and drainage in Santa Cruz, and design of the Water, Sewage/Stormwater Network Plan for Puerto Suarez.
The project in Puerto Suarez will complement construction of the highway in this national development pole.
(La Paz, January 20, 2009).- The Andean Development Corporation approved a US$50 million loan for the Republic of Bolivia to finance execution of four projects which will contribute to improving the health and access to basic services for 1.5 million people in Cochabamba department and the cities of El Alto, La Paz y Santa Cruz. The works are part of the water, sanitation and drainage program which supplements other important initiatives financed by CAF in the area of influence of these regions.
Since the program directly benefits marginal populations, the loan was eligible for the Compensatory Finance Fund (FFC). This mechanism was set up by the multilateral corporation to offer shareholder countries a substantial reduction on the financial cost of their loans.
The Misicuni Multiple project will use part of these funds – added to finance from the State – to construct a 120-meter dam and its supplementary works.
In the city of Cochabamba, the project to Replace Networks in the city center will receive funds to guarantee adequate operation.
In the city of El Alto, the loan will be used for construction of a sewage treatment plant in District 7, which will improve the environmental and social conditions of around 20,000 people.
To control and regulate the flooding which the city of Santa Cruz suffers in the rainy season, the Urban Sanitation and Drainage project will consolidate construction of four stormwater drainage channels and two regulation lagoons.
Puerto Suarez municipality, whose population growth and intense commercial activity generate widespread need for basic services, will benefit from studies and design for the Puerto Suarez Master Plan for Potable Water, and Sewage/Stormwater Network with a view to expansion and improvement of the potable water and basic sanitation systems, and construction of stormwater drainage in this region.
This project complements construction of the Santa Cruz-Puerto Suarez binational integration corridor (whose final sections also financed by CAF were opened on January 15) and aims to convert Puerto Suarez into a national development pole as part of the integrated development agenda which CAF supports. In addition to regional physical integration, the work will improve the living conditions of the inhabitants of the areas of influence of the infrastructure projects.