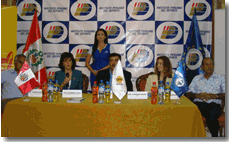 XXVI Friendship Cup organized with Cantolao Academy
January 22, 2009
4,000 children from 220 children's and juvenile football teams in Lima, provinces and abroad will take part in the tournament.
The CAF contribution to the tournament is part of the "Let's save the Dolphins" initiative which supports children and young people from socially underprivileged sectors of El Callao.
(Lima, January 22, 2009).- A total of 4,000 children – from 220 children's and juvenile football teams from Lima, provinces and abroad – will take part in the XXVI CAF Friendship Cup to be held from January 26 to February 1 in various venues in Lima and El Callao, under the organization of the Cantolao Sports Academy, with the support of the Andean Development Corporation (CAF) for the second year running.
During a press conference to launch the activity held today in the National Stadium, CAF director in Peru Eleonora Silva Pardo said that the cooperation funds that the multilateral development bank provides for holding the tournament were part of the larger initiative "Let's Save the Dolphins," which the Corporation has executed since late 2007 to help young people and children from socially underprivileged sectors in El Callao who for specific reasons are in risk situations.
Silva Pardo said the support includes psychological, educational and nutritional care for 50 children from low-income sectors in El Callao, along with activities directly related to football as a tool for rescuing children and young people with problems.
The "Let's Save the Dolphins" project is part of the sports training which CAF promotes by supporting organizations like the Cantolao Academy in Colombia, Bolivia, Venezuela and Ecuador.
The president of Cantolao Academy, Dante Mandriotti, said the opening ceremony of the CAF Friendship Cup with the parade of all the delegations would be held Monday January 26 in the main plaza of La Punta – El Callao.
The CAF official said the event was one of the most important youth football tournaments in Latin America because it has FIFA approval and the support of UNICEF. In the 25 previous events, football teams of children aged nine to 16 participated from all corners of Bolivia and around the world.
For this year's XXVI CAF Friendship Cup the following teams have confirmed their presence: Cruz Azul, Mexico; Asociación Deportiva y Cultural de Entre Ríos, Paraná, Argentina; Corinthians, Brazil; Barrabases, University of Chile Sports Club; Universidad de Arica; and Escuela Andina de Chile.
The list of clubs also includes River Plate, Colegio Americano and Escuela Metropolitana, Ecuador; Monaguillos, Club Deportivo Paz y Futuro, Colombia; Escuela Menor de Fútbol, Selección de Aragua, and Escuela de Puerto Ordaz, Venezuela; Novato Soccer, United States. For Peru, the teams are Universitario de Deportes, AELU, Colegio San Agustín, Cienciano del Cusco, Melgar and Esther Grande de Bentín of Arequipa, among others.
The teams will be divided into nine categories for boys' football (1992 to 2000), and a single category for girls (1992). The teams will compete in the following venues: VIDENA (Villa Deportiva Nacional), Colegio Claretiano, Colegio San Agustín, Colegio Melitón Carvajal, Estadio Miguel Grau, Complejo Yawar Huaca, and Club Cultural Lima de Chorrillos.
It should be recalled that in last year's Cup, over 1,000 players participated in football clubs from Argentina, Brazil, Chile, Colombia, Ecuador, United States, Japan, Mexico, Peru, Uruguay and Venezuela, among others.
In previous years, recognized international players have participated in this prestigious championship, including the Argentines Lionel Messi (FC Barcelona) and Javier Zanetti (Inter de Milan), and the Uruguayan Alvaro Recoba (Panionios NFC of Greece).
Local players on the list include Jefferson Farfán and Carlos Zambrano (FC Shalke 04), Claudio Pizarro (Werder Bremen), and Nolberto Solano (Universitario de Deportes), along with the talent that emerged from Cantolao Academy: Juan Carlos Mariño, Paolo de la Haza, Luis Guadalupe, Jean Ferrari, Donny Neyra, Junior Ross, Ryan Salazar, Raymond Manco, and Néstor Duarte