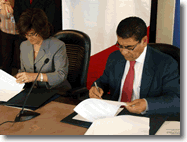 Agreement on Good Corporate Governance signed with Banco de la Nación
February 10, 2009
The CAF Program of Diagnosis and Implementation of Best Corporate Governance Practices is aimed at supporting state-owned companies in a commitment to achieve high standards of management in their institutions.
(Lima, February 10, 2009). - CAF director representative in Peru Eleonora Silva Pardo, and the president & CEO of Banco de la Nación (BN), Humberto Meneses Arancibia, today signed an agreement to implement Good Corporate Governance Practices to support this state company in its commitment to achieve high standards of management.
Silva Pardo said - in its continuing work to promote the sustainable development of its shareholder countries - CAF has been executing this program in the region, with the support of the Spanish Technical Cooperation Fund, to promote Good Corporate Governance Practices in ten representative state-owned companies, including Banco de la Nación.
"Through this agreement signed with BN, the CAF competitiveness department offers a series of tools to improve business practices and awaken interest in the creation of a true culture of efficiency, equity and transparency in the management of state-owned companies," she said.
After recalling that the multilateral development bank had been actively promoted good corporate governance practices in the region since 2000, the CAF official said that in a first stage the work was implementation of good corporate governance practices in private-sector companies; while currently the second phase of the program is being executed, with the challenge of implementing these practices in public sector companies.
"We are committed to this area and the progress that has been achieved in Peru is well known. We hope this program will be a reference and be replicated in other organizations at national and regional level," she added.
Banco de la Nación president & CEO, Humberto Meneses Arancibia, said that implementation of good corporate governance practices would contribute to reducing management-related risk and facilitate agreements on better conditions and better terms with other stakeholders such as suppliers, clients or employees, etc. The bank has requested CAF to include it as one of the state companies that will participate and receive support from the consultant on implementation of the program.
"Banco de la Nación has great interest in good corporate governance practices. In the last two years, we have been winners of the Best Corporate Governance Award in state-owned companies. With the signing of this agreement, we renew our commitment and we will strengthen our action in this area," Meneses Arancibia added.
The mission of Banco de la Nación is to offer quality financial services to public sector bodies, their suppliers, workers and the public in general, and to contribute to the economic and financial decentralization of Peru by extending these services to areas where there is no banking operations, in an institutional framework which guarantees their financial self-sustainability.