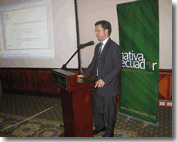 Joint project with CORPEI and MIC to improve quality management in the medicinal plant sector in Ecuador
February 16, 2009
The results were presented in Quito of the project to "Strengthen the competitiveness of the medicinal, aromatic plants and derivatives chain on international markets"
(Quito, February 16, 2009).- The Andean Development Corporation, the Corporation for Promotion of Exports and Investments (CORPEI), and the Ministry of Industries and Competitiveness (MIC) have promoted a project to increase access to international markets by companies in the sector of medicinal, aromatic plants and their derivatives, by improving their processes of quality management and marketing.
Ecuador is one of the most bio-diverse countries on the planet. Its natural resources are one of its main strengths. Its territory has innumerable plant and animal species, including aromatic, medicinal and condiment plants. The producing and processing sector of these plants is a young and innovative sector, and above all has great potential on both domestic and international markets.
The market for aromatic plants offers ample possibilities for business, mainly in the pharmaceutical, cosmetic and food product markets; especially in European countries, the United States, Canada, Chile and others, where consumption of aromatic infusions is replacing black tea. Exports of natural products and ingredients grew 42% between 2005 and 2008 to total US$13.8 million, according data from the Central Bank of Ecuador.
Implementation of the project began in 2005; so far exports of aromatic and medicinal herbs by Ecuadorian processing and packaging companies have increased 30% on average.
These companies have optimized their quality control systems based on international standards, and upgraded the standardization and quality of the raw material by improving processes of raw material purchase and supplier ratings.
About 14 companies from the cities of Ambato, Loja, Quito, Macas and Riobamba participated in the project. With a labor force of over 500 workers, these companies process the raw material into ingredients and/or finished products for sale on domestic and international markets.
The initiative is part of the actions of the Competitive Support Program (PAC) which CAF promotes in its partner countries to increase the productivity of economic sectors.