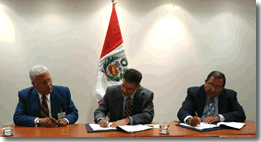 Support for Micro and Small Enterprises through FOGAPI
February 26, 2009
The Corporation signed an agreement with FOGAPI to grant a reguarantee line to facilitate loans for US$4 million
Approximately 4,500 MSEs will benefit from this guarantee mechanism.
(Lima, February 26, 2009).- Deputy CAF representative in Peru Ricardo Campins, and the president of the Board of the Guarantee Fund for Loans to Small Industries (FOGAPI), Francisco Martinotti, signed an agreement under which the multilateral will act as reguarantee (reafianzamiento) institution, granting coverage to facilitate loans up to US$4 million which will benefit approximately 4,500 Micro and Small Enterprises (MSEs).
Campins said the operation was part of CAF's strategy to develop the MSE sector and mitigate the risks that the international crisis may generate in the sector, which represents over 95% of the enterprises in the country.
"We recognize that national guarantee systems which are managed efficiently and sustainably are strategic allies for improving access by MSEs to finance. This operation represents an innovative scheme which will permit CAF to facilitate access to financing for an important group of Peruvian MSEs," he said.
Martinotti expressed his satisfaction with the signing, describing it as "a very important agreement which makes possible reguarantee operations for loans to MSEs in a context where the effects of the international economic crisis are already being felt, especially in this very dynamic sector of our economy."
"This international support is especially important for MSEs, which will be able to access a maximum loan of US$30,000 each. The sector also requires more support from FOGAPI for back-to-back loans," he concluded.
FOGAPI - founded in 1979 by organizations involved with the problems of the MSE sector - is a private non-profit foundation whose mission is to support and promote the development of MSEs through guarantee operations in all Peruvian economic sectors. It is currently the leading guarantee institution offering services targeted at the needs of Peruvian MSEs. This policy has directly favored the participation of thousands of MSEs in public and private bidding processes by granting them letters of guarantee. FOGAPI also facilitates access by Peruvian MSEs to credit from financial institutions regulated by the National Superintendency of Banking and Insurance (SPS) (banks, municipal and rural savings banks, Small and Microenterprise Development Entities (EDPYMES), etc), thanks to the start, for the first time in Peru, of the Credit Portfolio Guarantee service in June 1997.