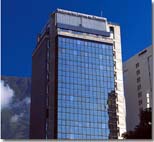 US$1.1 million made available to Bolivia for dengue emergency
February 03, 2009
The multilateral organization will support actions to strengthen health services and response to the basic needs of thousands of victims with a US$100,000 donation, and additional access to a US$1 million loan on special conditions.
Santa Cruz de la Sierra department concentrates over 80% of the outbreak of this disease nationally, however more cases are reported daily in another six departments.
(La Paz, February 3, 2009).- The Andean Development Corporation today announced a US$1,100,000 loan for Bolivia with immediate availability. The funds will help contain the dengue epidemic which is devastating seven of the country's departments. Of this amount, US$100,000 is a humanitarian assistance donation and US$1 million a loan which, because of the characteristics of the emergency, receives a subsidy from the CAF Compensatory Financing Fund (FFC) which adjusts the financial costs of the loan to highly concessional conditions.
CAF President & CEO Enrique García expressed the solidarity of the institution with the country and especially with the affected families which have lost their loved ones. "In an immediate response to the critical health emergency that Bolivia is suffering, CAF has decided to contribute funds to support humanitarian assistance tasks and control the epidemic as quickly as possible."
The donation will be used mainly to strengthen the capacity of health establishments to provide integrated and adequate care to reduce the mortality caused by serious forms of this disease. It will also increase the availability and distribution of medicines, reagents and inputs.
According to the latest reports from the Ministry of Health and Sports, in the first month of 2009 six times more suspected cases of classic dengue were reported than in 2007, and 10 times more than in 2008 in the same period. The deaths of five people from hemorrhagic dengue were confirmed. The ministry also reported the possibility of a considerable increase in secondary cases due to a different serotype which increases the risk of serious cases of hemorrhagic dengue in the population which has previously contracted the disease.
Because of this situation, and as part of the Program of Support for Response to Natural Emergencies III, CAF will support the Dengue Epidemic Contingency Plan which mobilizes all the key actors at local, national and regional level with the objective of immediately breaking the disease transmission chain.