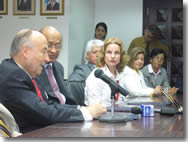 Agreement signed to restore river basins in Panama
March 06, 2009
CAF president & CEO signed with the Panamanian ministers of Economy and Finance, and Environmental Affairs, a US$18.4 million loan agreement for the environmental restoration of 19 river basins.
(Special, March 6, 2009).- With the objective of partially financing the
Investment program for restoration of priority river basins
, CAF president & CEO Enrique García; the Minister of Economy and Finance, Hector Alexander; and the Minister of Environmental Affairs, Ligia Castro de Dones, signed a loan agreement for US$18.4 million in Panama City.
"CAF maintains an important commitment to environmental sustainability in line with its mission to promote sustainable development and regional integration - García explained – by generating appropriate strategies and executing programs to increase investment in the environment in the countries of the region."
"Along with the Corporation's increased presence in Panama, this signing confirms the Latin American dimension of the institution," García added.
The objective of the program is to environmentally restore 19 river basins by identifying and executing projects related to agro-environment and generation of renewable energy, which minister Doens termed "green economy."
Minister Alexander praised CAF's decisive action in supporting major projects promoted by the Panamanian government, including expansion of the Canal, on very competitive terms for both parties.
Of the total cost of US$28.3 million, 65% will be financed by CAF; the Republic of Panama will contribute US$3 million and US$6.9 million will come from beneficiaries participating in the program.
The Environment Ministry evaluated all the basins in the country in order to select those which require immediate support and attention by the State. The selected basins are: La Villa, Chiriquí, Grande, Bayano, Santa María, Tuira, Antón, Pacora, Indio, Coclé del Norte, Chimán, Parita, Guararé, San Pablo, Tabasará, San Félix, Chico, Escarrea, and Chucunaque.
Since becoming a CAF shareholder in 1997, Panama has maintained close relations with the Corporation, leading to approvals of over US$820 million mainly for infrastructure projects, in addition to a series of non-reimbursable funds granted for various environmental and competitiveness programs.