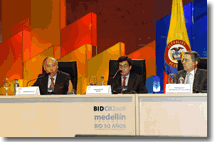 Colombia Infrastructure Fund
March 31, 2009
Investors will be IDB, CAF and BANCOLDEX Photos: Arlette Pedraglio, BID/IDB
Ministry of Finance and Public Credit
Republic of Colombia
(Medellin, March 31, 2009) - In the presence of Colombian President Álvaro Uribe Vélez as observer, the document of intent for structuring the Colombia Infrastructure Fund was signed today during the 50th Governors' Meeting of the Inter-American Development Bank (IDB).
The Fund is a vehicle for raising funds from local professional investors, local pension and severance pay funds, insurance companies, international investors and multilateral organizations as a contribution to resolving the great need for investment in this country.
The Fund is supported by the Inter-American Development Bank, the Andean Development Corporation and the Colombian government, which will contribute up to 50% of the first phase of Fund up to US$500 million.
The signing ceremony was attended by the Colombian Minister of Finance and Public Credit Oscar Iván Zuluaga; IDB President Luis Alberto Moreno; CAF President & CEO Enrique Garcia; and for Ashmore Investment Management Ltd Brent de Jong and Camilo Villaveces, who will act as fund managers.
Colombia has a great need for investment in infrastructure in all sectors and is open to private investment. From 1992 to 2007 about US$21 billion was invested in infrastructure in the country, mostly by strategic investors with very little participation from local investors.
In the first phase, the Infrastructure Fund will have a capital of US$500 million which is expected to rise to US$750 million. The Fund has an operating life of 15 years extendable for a further five years. The investment period is five years in sectors such as electric power; telecommunications; land, rail, air, port (sea and river) transport; mass transport; logistics infrastructure; gas; potable water; solid waste management; and others.
The management company of the Fund is Ashmore Investment Ltd, a highly successful international fund manager with proven experience in investing significant amounts of capital.