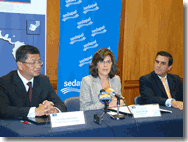 Good Corporate Governance agreement signed with Sedapal
March 19, 2009
The CAF Program of Diagnosis and Implementation of Best Corporate Governance Practices aims to help state companies to meet their commitment of to achieve high standards of management in their institutions.
(Lima, March 19, 2009).- CAF director representative in Peru, Eleonora Silva Pardo, and president & CEO of Sedapal, Guillermo León Suematsu, today signed an agreement to implement good corporate governance practices in support of this state company's commitment to achieve high standards of management.
Silva Pardo said – as part of its continuing work to promote the sustainable development of the shareholder countries - CAF has been executing this program at regional level with the support of the Spanish Technical Cooperation Fund with a view to implementing Good Corporate Governance Practices in ten selected representative state companies, including Sedapal.
"By means of this agreement signed with Sedapal, the CAF Competitiveness Office offers a series of tools to improve business practices and stimulate interest in creating a real culture of efficiency, equity and transparency in the management of state companies," the CAF executive said.
After recalling that the multilateral entity had been actively promoting good corporate governance practices in the region since 2000, the CAF representative explained that the first stage had been to implement good corporate governance practices in private sector companies. Now the second phase of the program is under way with the challenge of implementing these practices in public sector companies.
"We are convinced and committed to this initiative and the progress made in Peru is well known. We hope this program will become a reference and be replicated in other national and regional entities," she added.
Sedapal President Guillermo León said CAF support was fundamental for strengthening execution of efficient and transparent practices in Sedapal which will permit the company to achieve its objectives. "Good corporate governance is a culture of ethics, which guarantees good business administration and management through productivity and competitiveness, and above all by guaranteeing transparency in management."
"This agreement is especially relevant at a time when we have been executing important megaprojects to benefit the cities of Lima and Callao with 100% coverage in potable water, storage and sewage and treatment services, and will showcase Sedapal as the benchmark company of the public sector," he said.
For a public company like Sedapal, whose main function is to provide vital basic services of potable water and sewerage to the population of the Peruvian capital, it is essential to define clear and transparent practices in all its operating processes, as well as to create a business culture where values and ethics predominate in and across all levels of organization," León said.
Sedapal is a state corporation governed by private law, wholly owned by the state, responsible to the Ministry of Housing, Construction and Sanitation, with technical, administrative, economic and financial autonomy. Its services are of public need and use and of preferential social interest.