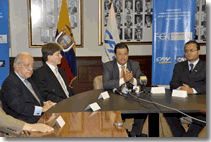 Joint project with CFN to improve access to financing by MSMEs
March 05, 2009
In Quito the two corporations announced the creation of the Trust-Guarantee Fund for Micro and Small Enterprises in Ecuador, whose objective is to improve access to financing by small-, medium- and micro-enterprises in the country.
(Quito, March 5, 2009).- In a ceremony in Quito, representatives of CAF and the National Financial Corporation (CFN) announced the setting up of the Ecuadorian Trust-Guarantee Fund for Micro and Small Enterprises, aimed at partially guaranteeing the credit operations of micro-, small- and medium-sized enterprises in the country.
During the event at which were present Camilo Samán, president of the CNN Board; Michel Doumet, general manager of CFN; Luis Paláu-Rivas, CAF director representative in Ecuador; and Daniel Jordan, CAF private sector executive.
Luis Paláu-Rivas emphasized the importance of the structuring of the Guarantee Fund for MSMEs because, as the first fund of this nature in Ecuador, it will promote the development of this sector in the country.
The Chilean Guarantee Fund for Small Enterprises – FOGAPE – was selected by international competition to provide consulting services. FOGAPE is an autonomous body attached to the State Bank of Chile which, together with technical staff from CAF and CFN, was responsible for defining the project Development and Implementation of a Credit Guarantee and Reguarantee Mechanism for Ecuador.
The Fund will be managed through a non-profit trust by Fiduciaria del Pacífico S.A.-FIDUPACIFICO, institution selected after the appropriate process.
With this operation, CAF and CFN are making a decisive contribution to the economic and productive development of Ecuado