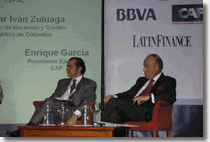 Latin America: Economic and political challenges
March 31, 2009
As is now traditional, CAF hosted, with Latin Finance and BBVA, a breakfast debate to discuss the economic and political challenges of Latin America in the framework of the 50th Meeting of IDB in Medellin, Colombia.
(Special, March 31, 2009) - The Andean Development Corporation, together with Latin Finance magazine and BBVA, once again hosted a breakfast debate for politicians, business leaders and bankers from the region with the theme: "Latin America: Economic and political challenges." The event took place during the 50th Annual Governors Meeting of the Inter-American Development Bank (IDB) this morning in the Colombian city of Medellin.
Commenting on the breakfast, which was attended by about 200 bankers, investors and economists from the continent, CAF President & CEO Enrique Garcia said, "it is the meeting point where leaders of the region can exchange opinions and views on the current situation." The debate which was held in the form of a conversation produced a valuable exchange of ideas on the overall situation of the regional economic and political process.
The panelists included Óscar Iván Zuluaga, minister of Finance and Public Credit of Colombia; Martín Redrado, president of the Central Bank of Argentina; Rodrigo Bolaños, president & CEO of FLAR; Alicia Bárcena, executive secretary of CEPAL; Alicia García-Herrero, chief economist for emerging countries BBVA; and James Crombie, editor of Latin Finance magazine. The debate was moderated by Enrique Garcia.
The discussion was also open to the guests attending the event with a view to hearing the opinions of people who actively take economic and political decisions in the region. The encounter has gained prestige over the years as it has become a discussion platform on the regional situation and its future prospects.