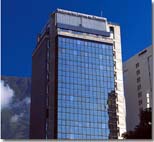 New Vice President of Financial Systems named
March 25, 2009
Leonardo Villar, Colombian economist with an outstanding record in the financial sector took up his post this March.
(Caracas, March 25, 2009).- CAF President & CEO Enrique García named Leonardo Villar Gómez as new vice president of Financial Systems with office in the headquarters in Caracas, Venezuela.
On announcing the appointment, García said it was part of the continuing process of institutional strengthening being implemented by the Corporation in a challenging international financial context. "We see the crisis as an opportunity for all development institutions like ourselves to play a very important anti-cyclical role."
García emphasized CAF support for its partner countries in the crisis, reflected in an increase in loan and technical cooperation operations, improvement of debt profile, contingent lines of credit, increased finance for trade and working capital, expansion of investment and catalytic financing, support for institutional and policy strengthening, improved financial conditions and, lastly, strengthening of the Corporation's Compensatory Financing Fund.
Leonardo Villar Gómez has had a professional career of over 20 years in the financial sector. During the last 12 years he was a member of the Board of Banco de la República de Colombia. He previously occupied various positions, particularly technical vice minister in the Ministry of Finance and Public Credit, vice president of Economic Research and Planning at the Colombian Foreign Trade Bank (Bancoldex), technical vice president and editor of the Banking and Financial Review of the Colombian Banking Association, and permanent advisor to the Foreign Trade Council of the Ministry of Economic Development.
He has also been a member of the boards of recognized institutions such as the Securities Superintendency, Financial Institutions Guarantee Fund (Fogafin), Industrial Development Institute (IFI), National Guarantee Fund and Comisionista (brokerage) of Colombia. As a teacher, he has long experience as professor in the Faculty of Economics at the universities of Los Andes and El Rosario.
Villar Gómez graduated as an economist from the University of Los Andes. He has a Master's in Economics from the University of Los Andes, a Master of Science (M.Sc) in Economics and doctorate studies in economics both at the London School of Economics.