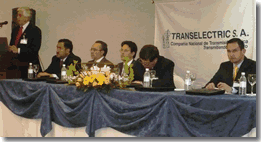 Seminar on 500 kV transmission
March 02, 2009
With CAF support, TRANSELECTRIC held international seminar on "Extra High Voltage Transmission Systems" from March 2 to 4.
The energy map of Ecuador is in process of change, following development of major hydroelectric generation projects in the country.
(Quito, March 2, 2009).- The National Government is promoting the development of major hydroelectric generation projects, such as Coca Codo Sinclair, Sopladora, and Toachi Pilatón, among others. To transport this power to the National Interconnected System requires a very high capacity transmission system at the 500 kilovolts level. Several Latin American countries already have this type of system, including Argentina, Brazil, Colombia, Chile and Venezuela, which they built to meet the strong growth of demand for electric power.
Participants in the seminar exchanged experiences on the best practices of other companies involved in electricity transport. The event will also help define the scope of the consulting services to be contracted for the final studies on the 500 kV transmission system which will be implemented in Ecuador in the future.
An extra high-voltage system will optimize the future use of energy resources, and enhance the reliability of power and energy supply in the Ecuadorian electricity system.
CAF's actions on energy are part of the promotion of an integrated development agenda to support energy projects around the region.