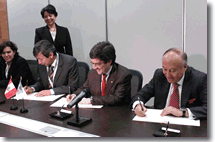 Signed Memorandum of Understanding for creation of Infrastructure Fund in Peru
March 31, 2009
The ceremony was held during the 50th Meeting of IDB held in Medellin Colombia.
The signatories were the CAF president, IDB president and the Peruvian vice minister of Finance.
Photos: Cámara Lúcida, Oscar Garcés and Arlette Pedraglio, BID/IDB
(Special, March 31, 2009).- CAF President & CEO Enrique García, IDB President Luis Alberto Moreno, and Peruvian Vice Minister of Finance Jose Berley Arista signed a Memorandum of Understanding whose purpose is to work together on structuring mechanisms to facilitate the financing of infrastructure projects with private sector participation in Peru.
The Peruvian government's awareness of the importance of private participation in the financing of infrastructure projects has lead to this first initiative to promote a capital fund with contributions from government, IDB and CAF, but managed with the criterion of profitability, and applying the best international practices for this business, and seeking the participation of domestic private savings and foreign capital.
The objective of the fund is to exploit the long-term opportunities which are appearing on the horizon. Many of these opportunities will require a fund manager with great skill in structuring and assembling businesses.
Latin America suffers from an important lag in infrastructure, which is a fundamental and indispensable condition for sustainable development, productivity and consequently for the region's economic growth. Additionally, investment in infrastructure projects has an important role to play as a counter-cyclical initiative amidst the worst global economic and financial crisis in memory.