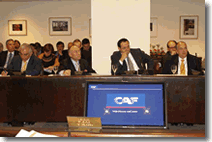 US$270 million for La Línea Tunnel in Colombia
March 17, 2009
The project will substantially improve the Bogota-Buenaventura road corridor which transports 30% of Colombia's foreign trade cargo.
This is the second CAF contribution after the US$30 million granted for the pilot tunnel.
(Caracas, March 17, 2009).- As a further contribution to improving travel between the cities of Bogota and Buenaventura, CAF today approved US$270 million for the Republic of Colombia to partially finance execution of Centenario II Tunnel (La Línea). The executing agency will be the National Roads Institute (INVIAS).
"The project is part of the program for investment in competitiveness infrastructure defined in the National Development Plan for 2006-2010 and the Domestic Agenda to improve productivity, promoted by the Colombian government," CAF President & CEO Enrique García said.
Thirty percent of Colombia's foreign trade cargo moves through the corridor "so our support is important. The Corporation has previously participated in financing various projects to rehabilitate and improve the Bogota-Buenaventura Corridor, totaling US$139 million," he added. As part of CAF support for the La Línea Tunnel Project, cooperation funds will also be granted for follow up and control of the environmental impacts of the works, along with support for execution of productive projects in local communities in coordination with regional development corporations.
Given the importance of the corridor for the country's trade, the project is defined as physical integration infrastructure and has been given priority in the South American Regional Integration Initiative (IIRSA).
The objective of the project is to traverse the Central Cordillera by building an 8,800-meter tunnel with access roads in the location known as the Paso de La Línea, the highest point on the Bogota-Buenaventura road corridor which connects the main production centers of the country with Buenaventura port on the Pacific Ocean.
The total cost is estimated at US$400 million, of which 68% comes from the CAF loan, 7% from the previous CAF loan, and the remaining 20% from local contributions and OPEC funds.