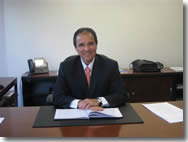 Victor Traverso, new CAF director-representative in Colombia
March 12, 2009
The new officer is Peruvian and has a long record in multilateral banking
(Bogota, March 12, 2009).- CAF President & CEO Enrique García appointed Victor Traverso as new director-representative of the multilateral organization in Colombia.
Traverso will replace Freddy Rojas Parra who, after six years of successful work in Colombia, will return to CAF headquarters in Caracas as special adviser to the Presidency of the Corporation.
Traverso, of Peruvian nationality, was adviser to the CAF Presidency and manager of operations in the 1992-1994 period. For over 25 years he worked for the Inter-American Development Bank (IDB) where he was chief adviser and head of group of the Private Sector Department, chief economist of infrastructure and capital market projects, and coordinator of operations for various countries of Latin America and the Caribbean, among others. He was also managing director for a fund manager, with responsibilities for structuring a subordinated debt infrastructure fund for Latin America. And recently he was chief adviser to the Peruvian Ministry of Economy and Finance.
"The appointment of Victor Traverso in Colombia will continue strengthening relations of cooperation with the Corporation, by accompanying key projects for the public and private sectors in favor of integrated local and regional development," Garcia said.
The new CAF director-representative in Colombia is a Fellow of Harvard University. He has two Masters in economics and economic development from Boston University, and he received an MBA from the Superior School of Business Administration (ESAN) of Peru.
García recalled that during the 2004-2008 period, CAF approved operations for US$5.86 billion Colombia for. Last year, the Corporation allocated US$1.48 billion in favor of the country for development of various sectors, especially financial and productive, for projects related to private investment initiatives, mainly in the areas of energy and communications, foreign trade operations, and working capital.